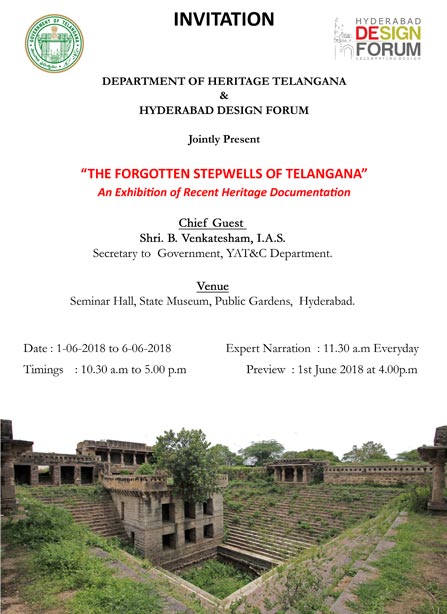 The Forgotten Stepwells Of Telangana
Department Of Heritage Telangana & Hyderabad Design Forum
Chief Guest
Shri. B.Venkatesham I.A.S
Secretary to Government, YAT&C Department
Venue
Seminar Hall,State Museum,Public Gardens,Hyderabad
Date: 01-06-2018 to 06-06-2018                      Expert Narration : 11:30 am Everyday
Timing : 10:30 am to 5:00 pm                                Preview : 01st June 2018 at 4:00 pm
The Architectural Traditions of Hyderabad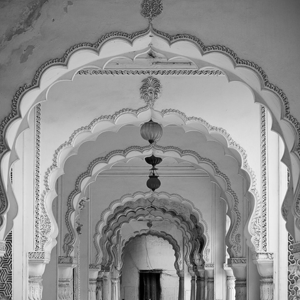 18TH International AIAC 2017, JNAFAU, School of Planning and Architecture, Hyderabad,
Sept 12th – 14th, 2017.
Does the history of culture shape the architecture of a society ?
Conversely, does architecture define the life and times of its people ?
To address this unresolved oxymoron, this presentation by design historian Ar. Yeshwant Ramamurthy will format the built traditions that constitute a hybridism of seemingly disparate styles from which Hyderabad's unique architecture evolved.
Using historical time lines, locational indexing, typology analysis and comparative investigation, the lecture is designed to trace the origins, incubation and emergence of a symbiosis that describes Hyderabad's architectural vocabulary on the cultural matrix of its pre – Independence narrative.
The presentation is under the auspices of the Hyderabad Design Forum.
Know More
Zak World of Façades conference.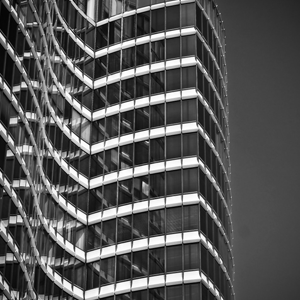 We would like to invite you to the 2017 edition of the Zak World of Façades conference. The Zak World of Facades conference is the region's premier conference in the domain of façade design & engineering and has become a specialised forum to discuss the latest innovations and challenges in the construction industry pertaining to the building envelope and showcases the latest technological solutions.
Zak World of Façades conference will take place at Park Hyatt, Hyderabad on Friday 15th September 2017. The conference is a 1-day event with registrations starting from 8.50 am onwards and will feature presentations and panel discussions from key industry experts on various subjects ranging from environmentally responsive façade designs, natural and synthetic alternative façade materials, solar shading fabrics, façade ventilation, use of primary homogenised aluminium billets for precision extrusions, fire and life safety in façades and many more interesting topics & case studies.
On display are a various number of cladding materials, energy efficient glass, rear ventilation techniques, aluminium curtain wall systems, precision aluminium extrusions, tensile façade fabrics, hardware, point fixed glazing and many more interesting products.
Registration Details:
Registration is only via online registration at our interactive website www.facades.ind.in. As seats are limited, we request you to register online at the earliest to avoid disappointment.
For any query, kindly contact Mr. Tarun Pratap Singh at +91-9560121299 / +91-7710998189 or tarun@zakgroup.com
Know More