Angela Jose
Speciality:Craft and home décor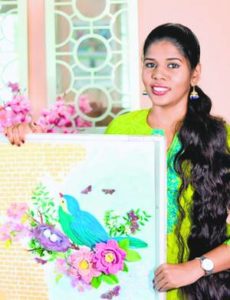 Maternityleave afforded Angela Jose, 29, the chance to start her website 'The Crafty Angels' in 2013, that now features home décor tutorials and craft ideas.
But balancing the blog along with her professional duties (Angela works as the Deputy Manager at Power Grid Corporation of India, Kolar), has been a challenge. "Since The Crafty Angels is solely the work of a one-woman army struggling with office and home, the pace of marching is a bit slow but I love what I make," she says.. The other 'Angel' in the blog is her four-year-old daughter Grace, an assistant on many of the projects.
With online content getting plagiarised often, earning money from a craft website isn't easy. "Crafting is a niche topic that doesn't have as much traction as beauty, lifestyle or fashion. So the return on investment is very less," says Angela, who started out with her own domain name and hosting. "Getting the template and design for a website require technical help. With changing Google algorithms, being good at craft is not enough to maximise exposure for your content," she adds.
She advises aspiring bloggers to try their skills out on a free service first before moving to a self-hosted platform. "Blogging is a slow growth industry and you cannot become successful overnight. If you love what you do, then blogging about it is always going to be a success," she says.
See her work on: thecraftyangels.com; www.facebook.com/thecraftyangels ; @thecraftyangels