Two international artists present their perspectives on India through a synergy of styles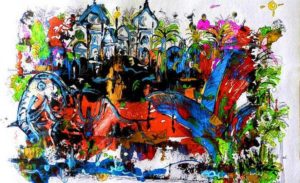 French artist Joseph Noce's series inspired by Bhubaneswar is a delightful representation of architecture, people, animals and all that the artist has observed on the streets of the city, brought to life through vibrant colours in his characteristic style. On display at a modest space in Joyess Art Gallery as part of 'French Connection Hyderabad 2018', are paintings of Joseph Noce along with that of Canadian artist Virginie Hamel, D S Rane from Mumbai, Sunkoju Ramesh, C Sreepathy and U Vijay Kumar from Hyderabad, Deepika Soni from Bengaluru, and Ashis Pahi from Bhubaneswar.
                   Curated by Ashis Pahi of Kalanirvana, the paintings are an attempt to showcase how international artists like Joseph Noce and Virginie Hamel incorporate their signature styles with India-specific observations. "We felt it wouldn't be of much relevance to showcase the work of international artists without their interpretation of India. The artists stayed in Bhubaneswar for over a month and what's on display is the work that emerged from the residency programme," says Ashis Pahi.
                  Kalanirvana that earlier had its own gallery at Bowenpally, Secunderabad, now has its presence in different cities so as to reach diverse art enthusiasts, says Ashis Pahi.
             "We may not have exhibited frequently in Hyderabad in recent years, but we've been actively engaging with national and international artists — at least 250 artists from 30 nations since 2010," he says.
                   The chaos and colour that typically describe an Indian city are reflected in Joseph Noce's work where he paints cows, a monkey, the experience on a flight (turbulent maybe, considering the prominent image of an air sickness bag?) and the Air India Maharaja mascot thanking passengers for flying with the airlines… Joseph's paintings are perhaps an ode to the mixed bag of experiences. Virginie Hamel's series, prints on special paper and collages on wood, are more minimalistic and semi-abstract.
French Connection Hyderabad 2018 is on view at Joyess Art Gallery, Road no.13, Banjara Hills, till December 4.